Main content starts here, tab to start navigating
Legendary Gourmet Pancakes
Slide 1 of 7
Slide 2 of 7
Slide 3 of 7
Slide 4 of 7
Slide 5 of 7
Slide 6 of 7
Slide 7 of 7
Babycakes started with a mission: to reinvent the humble pancake!
Chef Leah has created over 250 Babycakes flavors, with amazing creations such as Bubble Gum, Strawberry Margarita, Nutella Addict, Jalapeno Popper and Chicago Style Hot Dog.

We offer Babycakes for every type of eater; savory, sweet, chocoholic, carnivorous, vegan, gluten free... we've got it all!
Babycakes are perfect for breakfast, lunch or dinner, dessert, or any special occasion.
Scroll down for full descriptions of our most popular Babycakes or download our list of flavors and order by the stack!

Sweet Babycakes
BUTTERMILK BLISS fluffy buttermilk pancakes, whipped maple buttercream center
STRAWBERRY SHORTCAKE strawberry biscuit pancakes, strawberry compote, whipped cream

COOKIES N CREAM cream cheese pancakes, crushed oreo cookies, chocolate sauce
BLUEBERRY DREAM blueberry pancakes, cream cheese center

CINNAMON ROLL cinnamon cream cheese pancakes, brown sugar swirl, vanilla glaze
SALTED CARAMEL salted caramel pancakes, caramel bits, salted caramel pretzel, caramel sauce

RED VELVET red velvet pancakes, cream cheese center

BANANA'S FOSTER banana-rum pancakes, caramelized cinnamon bananas
BIRTHDAY CAKE vanilla pancakes, rainbow chips, white chocolate, whipped cream

BUBBLE GUM bubble gum pancakes, colored marshmallows, bubble gum bits, white chocolate sauce, whipped cream

APPLE BACON BOURBON apple-bourbon pancakes, baked-in candied bacon

PINEAPPLE UPSIDE DOWN pineapple cinnamon pancakes, cinnamon streusel topping
NUTELLA ADDICT buttermilk pancakes, baked-in nutella, chopped hazelnuts
TRES LECHES milk, cream and coconut cream soaked pancakes, whipped cream, strawberry slices, cocoa powder - served chilled
CHOCOLATE FUDGE BROWNIE chocolate pancakes, fudge brownie center, walnuts, chocolate sauce

APPLE FRITTER lightly fried apple cinnamon pancakes, powdered sugar, vanilla glaze
SHAMROCK SHAKE vanilla mint pancakes, mini chocolate chips, whipped cream, cherry
S'MORES vanilla pancakes, baked-in graham crackers, chocolate chips, torched marshmallows, mini Hershey's chocolate bar

FLUFFERNUTTER peanut butter pancakes, mini marshmallows, peanuts, marshmallow cream glaze

LEMON BLUEBERRY RICOTTA blueberry-lemon ricotta pancakes, fresh blueberries, powdered sugar, lemon zest
PEANUT BUTTER CUP peanut butter pancakes, baked-in peanut butter cups, chocolate sauce
MAPLE BACON MAGIC maple pancakes, baked-in candied bacon slices
TIRAMISU coffee-rum pancakes, crushed ladyfingers, whipped mascarpone, cocoa powder, strawberries - served chilled

PUMPKIN PIE pumpkin pancakes, baked-in pie crust, torched marshmallows, whipped cream
CHOCOLATE CHIP M&M vanilla bean pancakes, chocolate chips, mini M&Ms, chocolate sauce

ROOT BEER FLOAT root beer pancakes, angel food cake swirl, whipped cream, cherry

DARK CHOCOLATE PINOT NOIR chocolate pinot noir pancakes, pinot noir cream cheese glaze, whipped cream, cocoa powder

PEACH COBBLER peach biscuit pancakes, cinnamon brown sugar strudel, brandied peach compote

COFFEE N DONUTS coffee pancakes, caramel bits, mini mocha glazed donut for dipping, caramel sauce

CRÈME BRÛLÉE vanilla bean pancakes, torched sugar crust, vanilla bean custard, strawberry compote

BUTTERFINGER BABY chocolate dipped peanut butter pancakes, chopped butterfinger, chocolate sauce

COTTON CANDY cotton candy pancakes, raspberry swirl center, cotton candy sprinkles, whipped cream

STRAWBERRY MARGARITA strawberry tequila pancakes, lime glaze, rock candy "salt", whipped cream
TEQUILA SUNRISE orange-tequila pancakes, maraschino cherries, gummy worm
CANDY CANE KISSES white chocolate peppermint pancakes, candy cane hershey's kisses, crushed candy canes
CHOCOLATE CHIP FANTASY buttermilk pancakes, white, milk and dark chocolate chips, sno-caps
SUBLIME STACK maple pancakes, baked-in bacon, sausage and scrambled eggs
GINGERBREAD JOE gingerbread pancakes, candy mustache and eyes, m&m buttons

GERMAN CHOCOLATE milk chocolate pancakes, chopped pecans, toasted coconut, coconut-pecan frosting
PRIDE PANCAKES fruity rainbow pancakes (blueberry, strawberry, banana and buttermilk), whipped cream
WEDDING CAKE strawberry champagne pancakes, edible pearls and diamonds, edible flowers
OATMEAL MARSHMALLOW CREME brown sugar cinnamon oat pancakes, marshmallow creme center, cinnamon strudel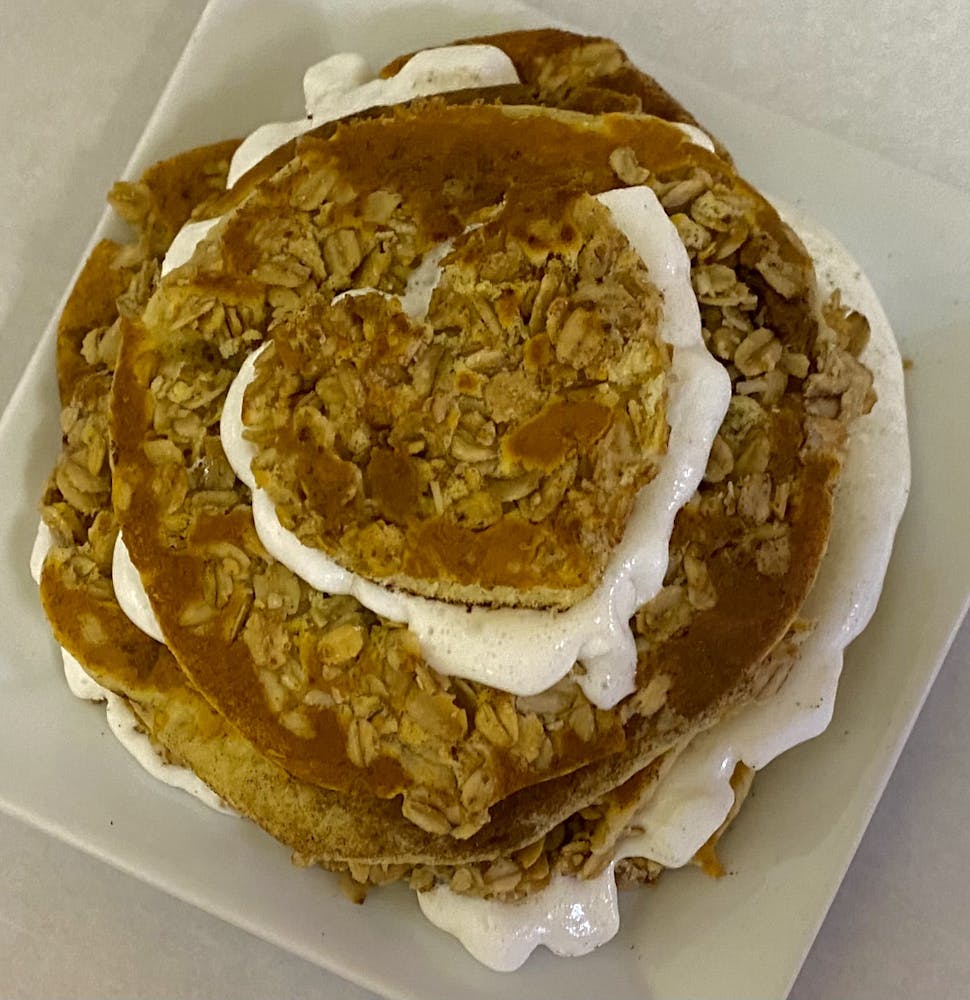 WINTER CRANBERRY cranberry sour cream pancakes, powdered sugar, whipped cranberry buttercream
COCONUT CREAM PIE coconut pancakes, baked-in pie crust, coconut whipped cream
PINK LEMONADE strawberry-lemon pancakes, whipped cream, lemon zest, strawberry compote
EGG NOG brandied egg nog pancakes, whipped cream, nutmeg
ALMOND JOY chocolate pancakes, toasted coconut, roasted almonds, chocolate sauce
MEXICAN MUDSLIDE amaretto coffee pancakes, slivered almonds, maraschino cherry, whipped cream
COCONUT CURRY coconut curry pancakes, lemon custard, toasted coconut, whipped cream, lemon zest
PUMPKIN CHEESECAKE pumpkin cream cheese pancakes, candied pecans, baked-in gingersnaps, whipped cream

BLACK CHERRY BOURBON black cherry bourbon pancakes, white chocolate shavings, white chocolate syrup
BOSTON CREAM vanilla pancakes, vanilla bean custard, milk chocolate ganache - served chilled
CINNAMON TOAST vanilla pancakes, crunchy cinnamon-sugar coating, cinnamon cereal topping
BERRIES N CREAM raspberry, strawberry & blueberry mascarpone pancakes, whipped cream, maple syrup
CHOCOLATE STOUT chocolate guinness stout pancakes, cocoa powder, bailey's irish cream glaze
RICE CRISPY TREAT vanilla pancakes, mini marshmallows, rice crispies, marshmallow cream glaze
FRUIT CAKE spiced fruit pancakes, chopped dates, pecans, cherries
LEMON MERINGUE lemon pancakes, torched meringue topping, lemon zest, served chilled
CARROT CAKE spiced carrot pancakes, cream cheese center, orange glazed
pecans, carrot shavings
ROCKY ROAD chocolate pancakes, toasted walnuts, mini marshmallows, chocolate sauce
DEEP FRIED TWINKIE deep fried vanilla pancakes, marshmallow cream center, powdered sugar glaze
PIÑA COLADA pineapple rum pancakes, pineapple chunks, toasted coconut, coconut whipped cream, maraschino cherry
CREAMSICLE orange vanilla pancakes, creamsicle candy topping, whipped cream, orange glaze
WHITE VELVET cream cheese pancakes, white chocolate chips, powdered sugar, white chocolate sauce
CARAMEL CORN sweet caramel pancakes, caramel corn topping, chopped peanuts, caramel sauce
KEY LIME PIE key lime pancakes, crushed graham cracker pie crust, whipped cream
RUM RAISIN vanilla rum pancakes, rum soaked raisins, vanilla custard, maple syrup
STRAWBERRY CHEESECAKE strawberry cream cheese pancakes, graham cracker swirl, strawberry compote
PEANUT BUTTER & JELLY peanut butter pancakes, raspberry jelly swirl center, raspberry syrup
SWEET POTATO sweet potato pancakes, candied pecans, whipped cream, maple syrup
CHIPOTLE CHOCOLATE dark chocolate chipotle pancakes, sweet lime glaze, chocolate shavings, chocolate sauce
WHITE CHOCOLATE MACADAMIA white chocolate pancakes, toasted macadamia nuts, white chocolate sauce
TAFFY APPLE caramel apple pancakes, caramel bits, crushed peanuts, caramel sauce
COOKIE DOUGH vanilla bean pancakes, soft cookie dough center, chocolate chips, chocolate sauce
CHRISTMAS COCOA milk chocolate pancakes, red, white and green holiday marshmallows, whipped cream, cocoa powder
STARS AND STRIPES red, white and blue (strawberry, vanilla, blueberry) pancakes, fresh berries, patriotic rock sugar
COOKIES N SCREAMS cream cheese pancakes, crushed Halloween oreos, orange sugar sprinkles, chocolate sauce
SAVORY BABYCAKES
SAUSAGE CHEDDAR cheddar biscuit pancakes, baked-in pork sausage patties, cheddar cheese
---
SPICY SAUSAGE APPLE fresh apple pancakes, thai chili spiced pork sausage
---
BACON EGG N CHEESE three cheese and bacon pancakes, baked-in fried egg, tabasco sauce
---
MUSHROOM GORGONZOLA savory mushroom-gorgonzola pancakes, fresh basil leaves
---
PEPPERONI PIZZA pepperoni pizza pancakes, fresh basil, mozzarella, parmesan, marinara
---
CHORIZO POTATO fried pork chorizo and potato pancakes, green chiles, smoked mozzarella, fresh salsa
---
MARGHERITA mozzarella pancakes, fresh basil, yellow and red cherry tomatoes, basil pesto
---
CHIPOTLE CHICKEN TAMALE cornmeal "tamale" pancakes, shredded chipotle chicken, mexican cheeses, fresh roasted salsa
---
HAM N CHEESE cheddar pancakes, diced honey ham, ooey gooey cheese sauce
---
WISCONSIN HARVEST fresh apple and sharp cheddar pancakes, sour cream
---
CHICKEN & BACON PANWICH buttermilk pancakes, fried chicken tenders, candied maple bacon
---
JALAPEÑO POPPER crispy panko-jalapeño pancakes, cream cheese, cheddar cheese
---
STEAK N EGGER savory pancakes with baked-in fried egg, diced new york strip steak, country potatoes, tabasco on the side
---
ITALIAN BEEF french bread pancakes, thinly sliced italian style roast beef, provolone, mozzarella, giardiniera
---
CHORIZO GOUDA MAC pork chorizo macaroni pancakes, smoked gouda cheese, toasted panko crumbs
---
CHICKEN FAJITA cornmeal "tortilla" pancakes, adobo chicken, fajita veggies, fresh roasted salsa
---
CHEESY CORNDOG honey cornmeal pancakes, little smokies pork sausages, cheddar cheese, mustard, ketchup
---
SPINACH ARTICHOKE mozzarella-parmesan pancakes, spinach, artichoke hearts, spinach cream sauce
---
GYROIFFIC pita pancakes, sliced gyro style beef, tomato, onion, tzatziki sauce
---
LOADED POTATO fried shredded potato pancakes, cheddar cheese, bacon lardons, chives, sour cream
---
CHICKEN PARMIGIANA parmesan-garlic pancakes, fried chicken tenders, fresh basil, marinara, italian bread crumbs
---
BISCUITS & GRAVY buttermilk-sausage biscuit pancakes, creamy sausage gravy
---
BUFFALO CHICKEN buffalo spiced savory pancakes, fried chicken tenders, carrot & celery shavings, blue cheese crumbles
---
CHILAQUILES cornmeal-chorizo pancakes, tri-color tortilla chips, cheddar, scrambled eggs, salsa
---
KOREAN KISS crispy scallion-carrot pancakes, bbq korean spiced skirt steak, sriracha, sesame seeds
---
CRAB N CREAM CHEESE lightly fried crab and cream cheese pancakes, pimentos, panko crumbs, scallions
---
PHILLY CHEESESTEAK french bread pancakes, mozzarella, philly-style thinly sliced steak, roasted peppers, onions, mushrooms
---
BLACK BEAN NACHO crispy black bean pancakes, tortilla chips, cheddar cheese, sour cream, guacamole, fresh salsa
---
SOURDOUGH PATTY MELT sourdough pancakes, hamburger patty, caramelized onions, american cheese
---
CHICAGO STYLE DAWG savory hot dog bun pancakes, beef hot dog, neon relish, pickle, tomatoes, onions, sport peppers, mustard, celery salt, poppyseeds
---
GRILLED CHEESE EXPERIENCE savory grilled cheese pancake sandwich, creamy tomato-basil soup for dipping
---
MAPLE BACON MAGIC sweet maple pancakes, candied maple bacon, syrup
---
STEAK TAMALE cornmeal "tamale" pancakes, diced adobo steak, mexican cheeses, fresh roasted salsa
---
SAUSAGE STUFFING pork sausage and herb stuffing pancakes with cranberries and orange zest
---
SWINE SYMPHONY cheddar pancakes, diced honey ham, crisp bacon, breakfast sausage, syrup
---
BEER CHEESE N BACON bacon and beer cheese pancakes, minced green onions, ooey-gooey cheese sauce
---
JALAPEÑO CORN FRITTERS fried jalapeño and roasted corn fritters, fresh corn salsa
---
APPLE & ONION LATKE fried potato and shredded apple pancakes, caramelized onions, sour cream
---
STEAK FAJITA cornmeal "tortilla" pancakes, adobo steak, fajita veggies, fresh roasted salsa
---
DEEP DISH SAUSAGE PIZZA italian sausage pizza crust pancakes, mozzarella, parmesan, fresh basil, marinara
---
AREPAS DE CARNE MOLIDA venezuelan arepa (corncake), spiced ground beef, avocado, pickled radishes and jalapeño
---
BACON EGG N CHEESEBURGER savory three cheese and bacon pancakes, fried egg, cheeseburger center
---